Concrete Micro-Topping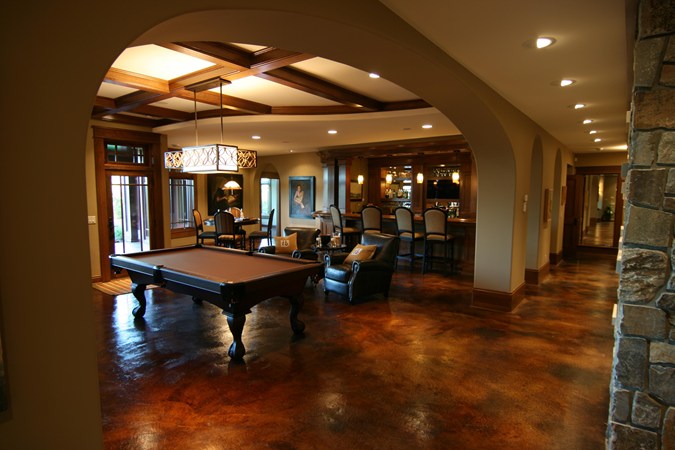 Micro-Topping is a re-surfacing material that is about the thickness of as credit card. Micro-Topping is formulated with high strength polymer cement and engineered to adhere to a variety of surfaces including old concrete, wood and steel. Micro-Toppings are used in decorative applications both interior and exterior as well as vertical surfaces. They can be left uncolored to simulate natural gray cement for re-surfacing old driveways, patios, sidewalks and pool decks. You can also change the color of your existing concrete to a color of your choice. Finishes can be brushed, troweled or textured as needed. For design versatility on interior surfaces Micro-Toppings offer hundreds of color choices with no design limitations.
Interior Concrete Surfaces
Special effects with Micro-Toppings are created with trowel mottling techniques, colored cements and chemical staining. For unique one of kind, smooth surface projects requiring up to 1/8 inch in thickness Micro-Toppings an excellent choice that give superior bond and flexibility characteristics to the your surface. Vivid color selections, colored grouts, saw cut patterns, stenciled logos designs are all part of a wide variety of application techniques. The finish itself can be troweled to an ultra smooth finished or textured. When finished all Micro-Topping surfaces are sealed with high grade acrylics sealers for enhancement and lasting protection.
Exterior Concrete Surfaces
Exterior projects include can include all the decorative techniques referenced above as well as simple restoration of old damaged concrete. Cracked driveways, patios, sidewalks and pool decks can all be repaired and treated with Micro-Toppings to give a fresh new look to you projects.
1/4" to 1" Concrete Overlays
Stamped Concrete Overlays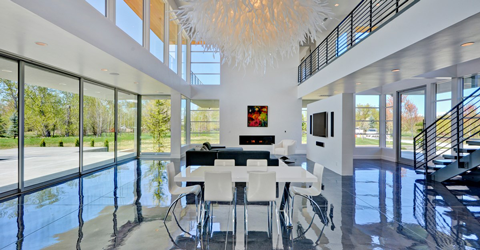 A variety of seamless stone textures and brick, tile as well as wood patterns are available to cover cracked and unsightly driveways, patios, sidewalks or pool decks. Specially formulated polymer concrete mixes can be applied as thin as 1/4" and up to 1" thick. With proper surface preparation Stamped Concrete Overlays will adhere to any stable substrate avoiding the cost and disruption of demoliton and hauling. Stamped Concrete Overlays come in a variety of colors and can be tailored to your design needs. Chemical stains can also be applied for old world effects. Use Stamped Concrete Overlays to improve your old interior and exterior concrete surfaces.
Interior Surfaces
Stamped Concrete Overlays can be applied over concrete home foundations, tile and wood subflooring. Commercial offices, retail spaces and home interiors are all candidates for stamped concrete overlays.
Exterior Surfaces
Driveways, patios, sidewalks and pool decks can be renovated to look new again. Using specialized stamping and coloring techniques otherwise simple or damaged concrete can become unique and exciting again. A wide variety of textures and colors are available. Vertical surfaces can also be treated with textures and patterns to additional effects to your projects.
ArcuStone
ArcuStone is limestone. The product mixture is crushed and graded into a matrix that is then trowel applied to vertical and horizontal surfaces. These surfaces are carefully worked and carved to create beautiful limestone effects for interior and exterior treatments.
Applications include countertops, fireplaces, shower surrounds etc. Standard dimensional limestone shapes as well as free hand flagstone shapes all have natural fractured edges due to this unique material.
The elegance of limestone can be applied to create one of a kind finishes for your home, office or commercial space.
Decorative Concrete Walls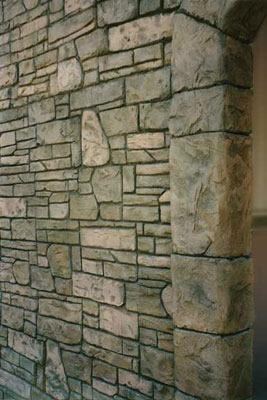 Gives a Natural Stone Appearance
Vertical concrete overlays can provide a new decorative finish to existing walls and other vertical surfaces. Mainly applied to existing concrete substrates, vertical wall mixes can also be applied to drywall, cement board, masonry, and brick. Create the appearance of natural stone, wood, brick, and masonry using vertical stamping tools, vertical texture & joint roller tools, or by hand carving a unique stone design. Vertical overlays are colored and stained using integral concrete color, acid stain and water based concrete stain.
Let us
help
CreteStar would be happy to answer all your questions and provide you with a free estimate tailored for your situation. Call us at: (423) 710-9200 or use our confidential Contact Form.