Concrete Staining
Concrete staining has been in existance since early 1900 with one of the best known examples being the Ahwahanee Hotel in Yosemite National Park. Though it was used rarely then it has been revived by architects and designers in the recent years due to its natural beauty.
Concrete staining is achieved using colors derived from natural metallic salts. These metallic salts react with the cement and give a permanent and unique color to the concrete. The stain is translucent and adds a patina effect to the concrete. The true objective of concrete staining is to preserve the beauty and character evident in all concrete. Trowel marks, imperfections and even cracks are a part of the floor's natural beauty. A variety of colors are available to choose from. Each of these colors will create natural mottling effects and "old world" beauty unlike any other concrete coloring method.
Concrete staining can also be decorated with saw cut patterns, designs and colored grouts. After the floors colored they are sealed with a high grade acrylic sealer that enhances and protects the stain. Finally the floors are sealed with high grade acrylic sealers to protect the finish and assure lasting beauty for the lifetime of your floor.
Concrete Polishing
Homeowners, retailers, big-box stores, educational and medical facilities are choosing polished concrete for their floor finish because of the competitive advantage polished flooring offers over other types of floor coverings. Decorative concrete in the form of polished floors has become the logical choice because of the great value it delivers, and because it can compete aesthetically as well.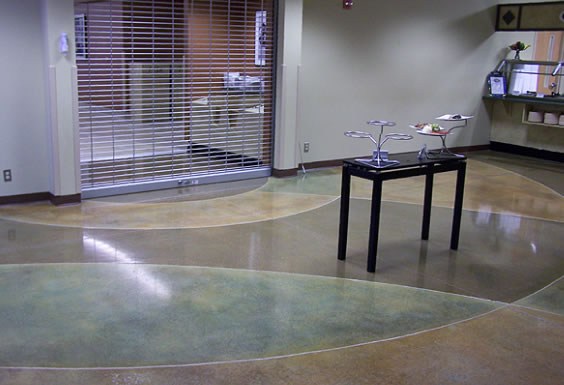 Residential Polished Floor Benefits:
Cost savings: Traditional floor covering materials are not necessary when the slab on grade is used as the finished floor surface
Longer life-cycle savings: Polished floors are not as vulnerable to damage as other materials and do not need replacing
Easy to clean: Won't harbor dust, dirt, allergens
Available in wide variety of colors and designs
Commercial and Retail Polished Floor Benefits:
Cost savings: Using the slab on grade as the finished floor surface is more cost effective, maintenance costs are lower
More resistant to high foot traffic. A grocer here in Tennessee explains that he is able to maintain primarily just the traffic ways within his store, which saves time and money because he does not have to move large display cases to wax and strip the floor.
Less maintenance and longer service life: Polished floors are easy to clean, requiring only occasional damp mopping. They also eliminate the need for messy waxes or coatings as well as the associated labor, time, and expense to apply them. The glossy surface of polished concrete resists the marks of forklift truck tires and staining from oil and chemical spills.
Resistant to moisture transmission issues:Polished concrete allows the floor to breathe and eliminates issues that arise with other flooring materials that seal off the concrete, such as tile, etc.
High light reflectivity:Important for office building floors, hotels, restaurants, and other public facilities that want to project a bright, clean, professional image. Also saves energy by reducing artificial lighting requirements
Is a sustainable flooring alternative: Polished concrete does not require hazardous coatings, cleaners or adhesives
The Versatility of Polished Concrete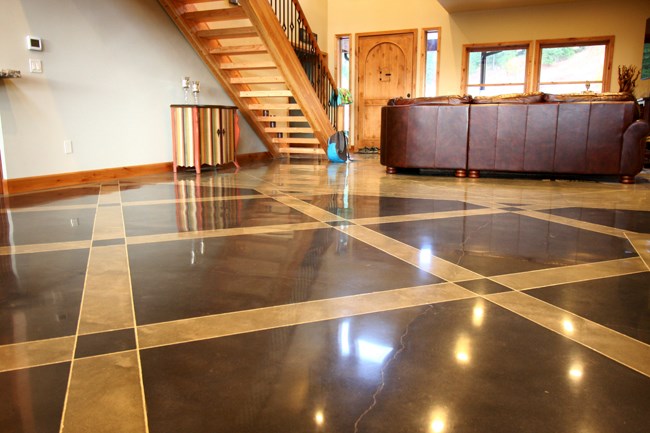 Because polishing is a multi-step process, homeowners and business owners can choose the level of sheen from stain to high-gloss that meets their maintenance and aesthetic requirements. This versatility makes polished concrete an ideal flooring material for a variety of applications.
The most common places polished concrete is used include:
Large warehouses and warehouse outlets
Retail stores
Hotels and restaurants
Office buildings
Auto showrooms
Private residences
Let us
help
CreteStar would be happy to answer all your questions and provide you with a free estimate tailored for your situation. Call us at: (423) 710-9200 or use our confidential Contact Form.